LARGE ANTIQUE MID CENTURY MODERN ABSTRACT CITYSCAPE OIL PAINTING OLD VINTAGE 60s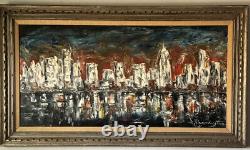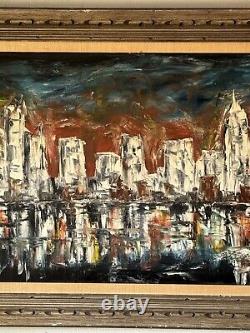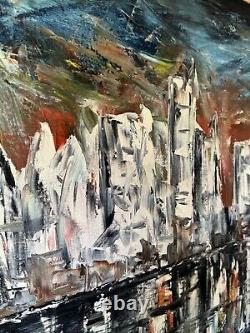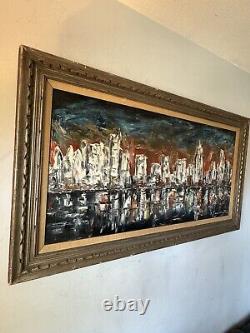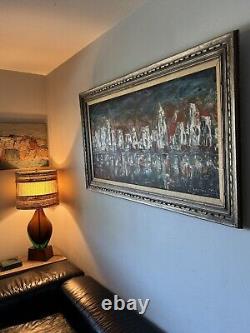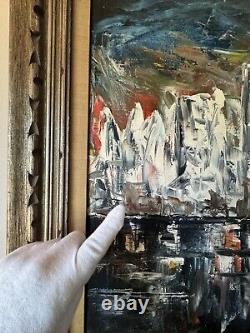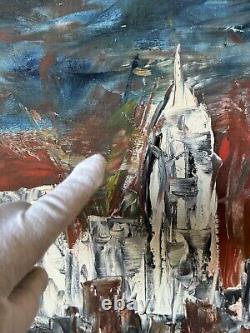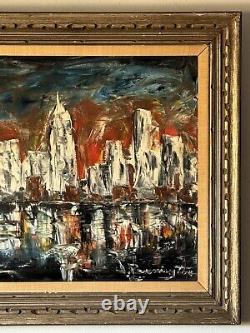 LARGE AND OUTSTANDING ANTIQUE MODERN ABSTRACT CITYSCAPE EXPRESSIONIST OIL PAINTING ON CANVAS DEPICTING THE ICONIC MANHATTAN IN NEW YORK CITY. THE CANVAS COMES ALIVE WITH BOLD CONTRASTING COLORS REPRESENTING THE CITY'S DYNAMIC ENERGY.
IN THE FOREGROUND, ABSTRACT WHITE SKYSCRAPERS SOAR TOWARD THE SKY, REFLECTING OFF THE HISTORIC HUDSON RIVER. THIS PAINTING EVOKES A FEELING OF EXCITEMENT AND MOTION, AS IF THE CITY ITSELF IS ALIVE AND PULSATING WITH ENERGY. THIS WORK IS SIGNED AND DATED 1965 IN THE LOWER RIGHTHAND CORNER.
PERHAPS YOU RECOGNIZE THE ARTIST? IT DOES NOT DETRACT FROM ITS BEAUTY IN ANY WAY. DIMENSIONS: 33" H x 58" W. Boroughs of New York City. Manhattan is the most densely populated of New York City's five boroughs.
It's mostly made up of Manhattan Island, bounded by the Hudson, East, and Harlem Rivers. Among the world's major commercial, financial, and cultural centers, it's the heart of the Big Apple. Its iconic sites include skyscrapers such as the Empire State Building, neon-lit Times Square, and the theaters of Broadway, to name a few.

---