Hilde Kayn Antique Impressionist Oil Painting Old Vintage Modern Ashcan New York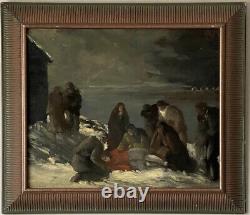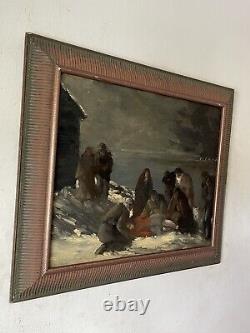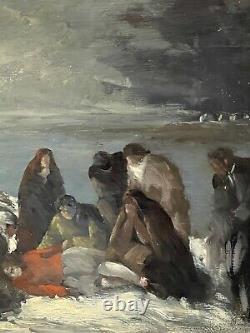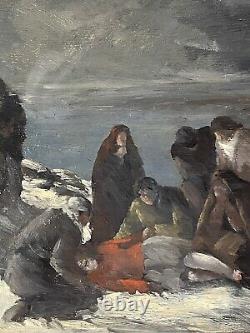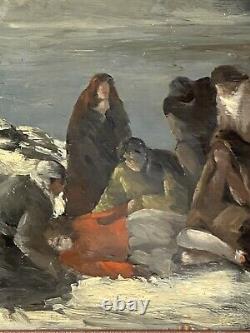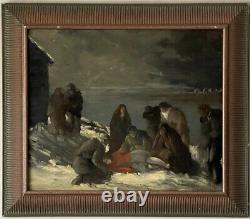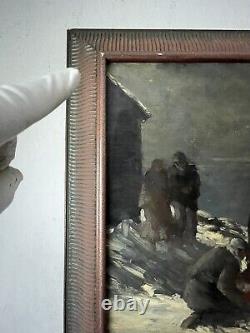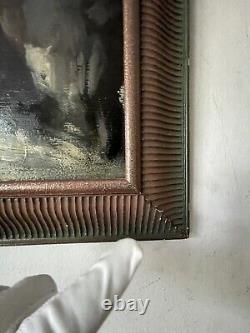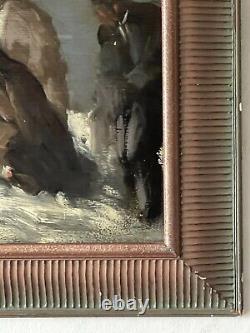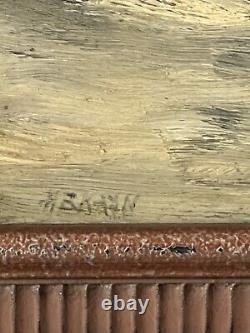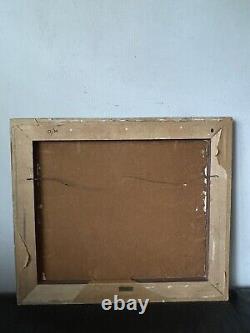 CAPTIVATING ANTIQUE MODERN IMPRESSIONIST OIL PAINTING ON BOARD BY EARLY NEW YORK ASHCAN PAINTER HILDE B KAYN. THIS WORK DEPICTS A SOMBER AND EXPRESSIVE GROUP OF INDIVIDUALS HUDDLED AROUND AN INDIVIDUAL LYING ON THE GROUND, APPEARING TO BE FRAGILE AND VULNERABLE. THE FIGURES ARE PORTRAYED IN A SOFT, ALMOST HAZY MANNER TYPICAL OF THE IMPRESSIONIST STYLE, WHICH ADDS EMOTIONAL WEIGHT TO THE SCENE.
THIS IS A BRILLIANT AND PROFOUND PAINTING THAT EVOKES A STRONG EMOTIONAL RESPONSE, TOUCHING ON THEMES OF EMPATHY, RESILIENCE, AND THE IMPORTANCE OF COMING TOGETHER TO HELP THOSE IN NEED. SIGNED BY HILDE B KAYN. IT DATES AROUND THE 1940s. MILD SCRATCHES TO THE FRAME, AS SHOWN. IT DOES NOT DETRACT FROM ITS BEAUTY IN ANY WAY.
DIMENSIONS: 30"W x 26"H. Kayn (1903 - 1950) was active/lived in Ohio. Hilde Kayn is known for Town-landscape, genre. Born: 1903 - Vienna, Austria. Died: 1950 - Toledo, Ohio. Born in Vienna, Austria, died in Toledo, Ohio. Kayn studied at the Art Students League, and with George Luks and George Bridgman. She was an Associate member of the National Academy of Design and the American Watercolor Society. She exhibited at the National Association of Women Artists 1935-38, Pennsylvania Academy of Fine Arts 1938, Carnegie Institute 1941, Allied Artists of America, American Watercolor Society-New York Watercolor Club 1939 and the Milch Galleries, New York 1953. Her paintings are in the permanent collections of the Butler Art Institute, the Toledo Museum of Art, the Encyclopedia Brittanica collection, the Montclair, N.
Art Museum, the National Academy of Design, the Frick collection, New York, the Belvedere Museum, Vienna and in several university and private collections.

---