6 avail 36x83x1.75 Vintage Antique Old Wood Wooden Door Window Textured Glass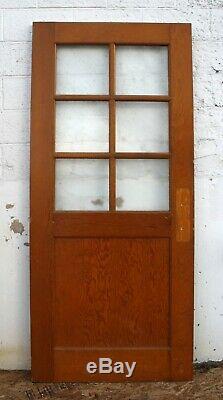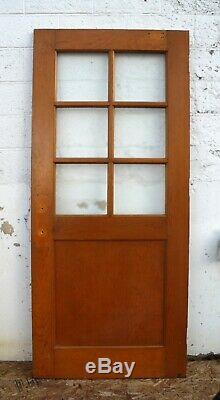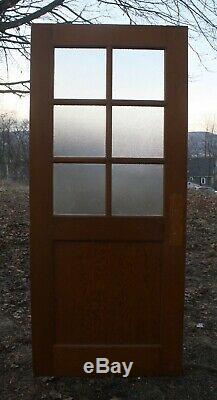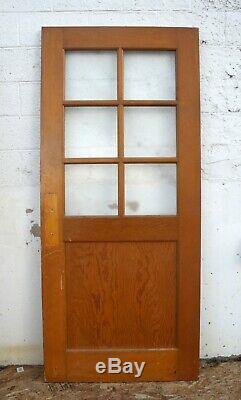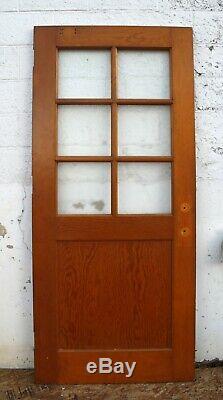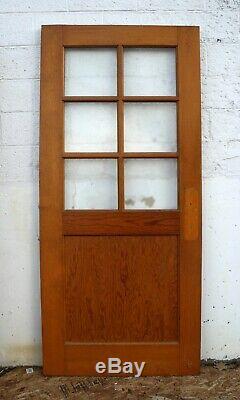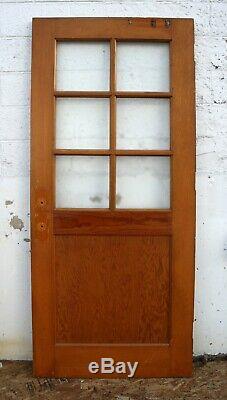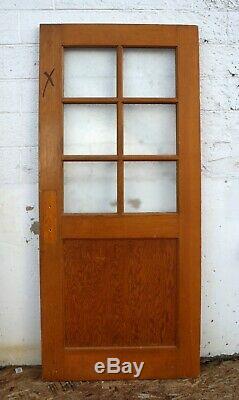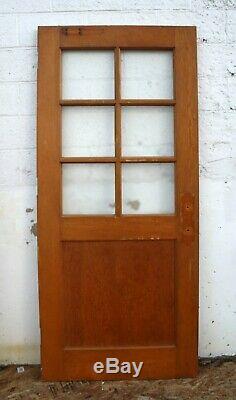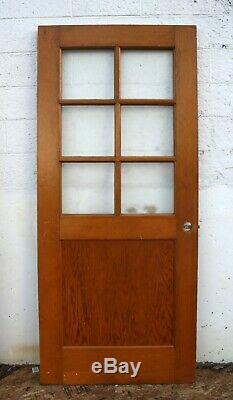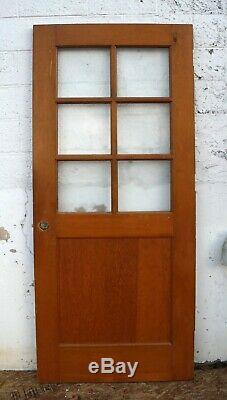 36"x82"x1.75 Vintage Solid Wood Doors w/6 Textured Glass Lites & Panel. Although there are 6 doors available, the list price is for 1 door. It looks exactly like Door#5; message us if you'd like to see photos of Door#6. All 6 are the same style/design and condition, but differ slightly in size (see dimensions below). First 4 photos show Door#1, and every 2 photos after that show the front and back of the next door in the group i. The 5th and 6th photos show Door#2. Beautiful, vintage doors salvaged from an old church in Eastern PA. The doors are made of solid pine and have their original stain and finish. Each door has a lovely arrangement of six, square, true-divided textured glass lites. The textured design consists of tiny circular dimples. Doors#1 & 2 and #3 & 4 were used together as pairs. They didn't have any locksets installed, they were opened by pulling or pushing, and closed by their pneumatic door closers, which we do not have. These doors have no big, hardware holes to fill or work around. Doors#5 & 6 were installed as single doors with locksets. None of the doors are equipped with hardware. Condition : All of the doors are strong, sturdy, and in excellent condition. They have nicks, scratches, and small nail holes but no breaks, cracks, gouges, rot, warp, or any other serious issues. Most of the blemishes that they have. Will disappear after sanding, prior to refinishing or repainting, and whatever remains will be subtle, character marks. " If you prefer to use them, "as is, you could. Just touch up scratches with some stain and use some Restore-A-Finish. Door#5 has a thin piece of wood that broke off of its lower, hinge stile corner on the interior side.
It's hard to notice, and will be even harder to notice once installed since the break is on the hinge side. Door#1 has a much smaller piece that broke off of one of its upper corners. All of the glass is fully intact and in great shape with only subtle scratches.
Refinish/Repaint : We could refinish, repaint, or partially or completely strip the doors to prepare it for you to repaint or refinish. Doors#1, 3, & 5 are set up to swing into a room, towards the left or away from the room towards the right.
The even numbered doors swing the opposite direction. We could change the swing of any door.
Modification : Do you want to make a pair using 2 of these doors? Do you want to replace the wooden panels with glass or the glass panel with wood? We could modify the doors to fit your opening or suite your needs.
We could make a frame, trim or add to the height or width, reverse the swing, plug the hardware holes, etc. Door#1 : (left in-swing) 35 3/4 " x 82 1/4 " x 1 3/4. Door#2 : (right in-swing) 35 3/4 " x 82 1/4 " x 1 3/4. Door#3 : (left in-swing) 35 5/8 " - 35 7/8 " x 82 1/8 " x 1 3/4 ".
Door#4 : (right in-swing) 35 5/8 " - 35 7/8 " x 82 3/8 " - 82 5/8 " x 1 3/4. Door#5 : (left in-swing) 35 5/8 " - 36" x 83 3/4 " x 1 3/4 ". Door#6 : (right in-swing) 35 5/8 " - 35 7/8 " x 8 2 1/8 " - 8 2 5/8 " x 1 3/4. Window : 12 1/2 " x 12 3/8 ". Northeastern VA, MD, DC, DE, PA, NJ, NY, & New England : We deliver to these states every 2 - 3 weeks.
The item "6 avail 36x83x1.75 Vintage Antique Old Wood Wooden Door Window Textured Glass" is in sale since Wednesday, February 26, 2020. This item is in the category "Antiques\Architectural & Garden\Doors". The seller is "pennantique" and is located in Scranton, Pennsylvania. This item can be shipped to United States.
Color: Medium Wood Tone
Decade: 1960s
Material: Wood
Original/Reproduction: Vintage Original
Type: Front Door
Features: Reclaimed

---