1830 HAITI Fasces LIBERTY CAP Old Antique Vintage Hatian 1 Centime Coin i104685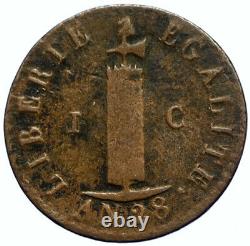 Item: i104685 Authentic Coin of. Haiti 1830 Copper 1 Centime 21mm (2.70 grams) Reference: KM# A21 REPUBLIQUE D'HAITI UN CENTIME 1830, Wreath, star above. LIBERTE EGALITE 1C AN 27, Fasces divides value, liberty cap above. Haiti, officially the Republic of Haiti (French: République d'Haïti ; Haitian Creole: Repiblik Ayiti) and formerly called Hayti, is a country located on the island of Hispaniola, east of Cuba in the Greater Antilles archipelago of the Caribbean Sea. It occupies the western three-eighths of the island, which it shares with the Dominican Republic.
Haiti is 27,750 square kilometres (10,714 sq mi) in size and has an estimated 10.8 million people, making it the most populous country in the Caribbean Community (CARICOM) and the second-most populous country in the Caribbean as a whole. The region was originally inhabited by the indigenous Taíno people. Spain landed on the island on 5 December 1492 during the first voyage of Christopher Columbus across the Atlantic. When Columbus initially landed in Haiti, he had thought he had found India or China. On Christmas Day 1492, Columbus' flagship the Santa Maria ran aground north of what is now Limonade.
The island was named La Española and claimed by Spain, which ruled until the early 17th century. Competing claims and settlements by the French led to the western portion of the island being ceded to France, which named it Saint-Domingue. Sugarcane plantations, worked by slaves brought from Africa, were established by colonists. Afterward the sovereign state of Haiti was established on 1 January 1804-the first independent nation of Latin America and the Caribbean, the second republic in the Americas, and the only nation in the world established as a result of a successful slave revolt.
The rebellion that began in 1791 was led by a former slave and the first black general of the French Army, Toussaint Louverture, whose military genius and political acumen transformed an entire society of slaves into an independent country. Upon his death in a prison in France, he was succeeded by his lieutenant, Jean-Jacques Dessalines, who declared Haiti's sovereignty and later became the first Emperor of Haiti, Jacques I. The Haitian Revolution lasted just over a dozen years; and apart from Alexandre Pétion, the first President of the Republic, all the first leaders of government were former slaves. The Citadelle Laferrière is the largest fortress in the Americas. Henri Christophe-former slave and first king of Haiti, Henri I I -built it to withstand a possible foreign attack.
It is a founding member of the United Nations, Organization of American States (OAS), Association of Caribbean States, and the International Francophonie Organisation. In addition to CARICOM, it is a member of the International Monetary Fund, World Trade Organization, and the Community of Latin American and Caribbean States. It has the lowest Human Development Index in the Americas. Most recently, in February 2004, a coup d'état originating in the north of the country forced the resignation and exile of President Jean-Bertrand Aristide.
A provisional government took control with security provided by the United Nations Stabilization Mission in Haiti (MINUSTAH). World-renowned expert numismatist, enthusiast, author and dealer in authentic ancient Greek, ancient Roman, ancient Byzantine, world coins & more. Ilya Zlobin is an independent individual who has a passion for coin collecting, research and understanding the importance of the historical context and significance all coins and objects represent. Send me a message about this and I can update your invoice should you want this method. Getting your order to you, quickly and securely is a top priority and is taken seriously here. Great care is taken in packaging and mailing every item securely and quickly.
What is a certificate of authenticity and what guarantees do you give that the item is authentic? You will be very happy with what you get with the COA; a professional presentation of the coin, with all of the relevant information and a picture of the coin you saw in the listing. Additionally, the coin is inside it's own protective coin flip (holder), with a 2x2 inch description of the coin matching the individual number on the COA.
Whether your goal is to collect or give the item as a gift, coins presented like this could be more prized and valued higher than items that were not given such care and attention to. When should I leave feedback? Please don't leave any negative feedbacks, as it happens sometimes that people rush to leave feedback before letting sufficient time for their order to arrive. The matter of fact is that any issues can be resolved, as reputation is most important to me.
My goal is to provide superior products and quality of service. How and where do I learn more about collecting ancient coins? Visit the Guide on How to Use My Store. For on an overview about using my store, with additional information and links to all other parts of my store which may include educational information on topics you are looking for.
This item is in the category "Coins & Paper Money\Coins: World\North & Central America\Haiti". The seller is "highrating_lowprice" and is located in this country: US. This item can be shipped worldwide.
Country/Region of Manufacture: Haiti
Certification: Uncertified
Year: 1830
Composition: Copper
Denomination: Centime

---